DBS Chile complete Borescopic Inspection on Chile Wind Farm
24.08.2023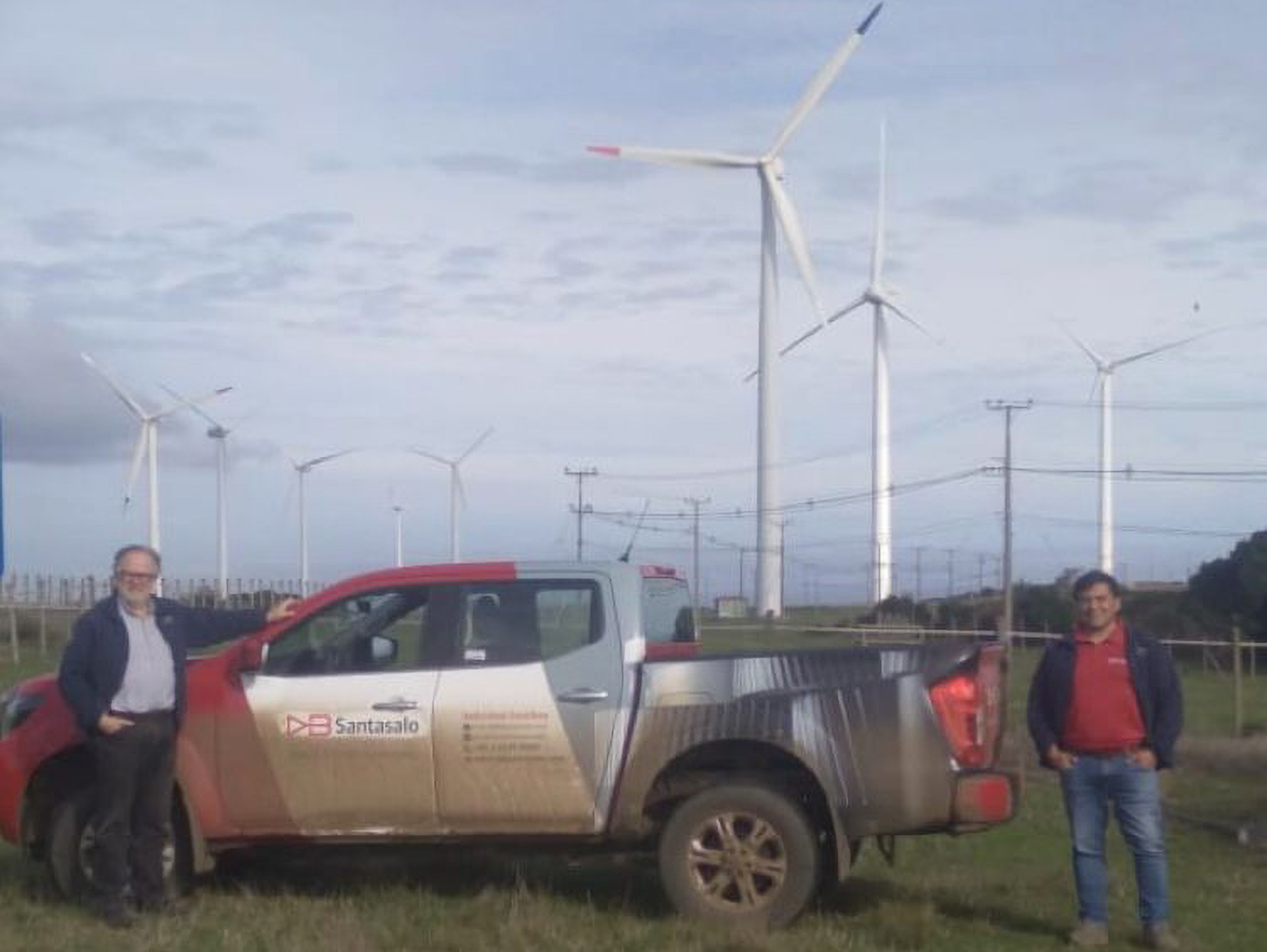 Our team at David Brown Santasalo Chile recently completed a field service inspection for one of our valued customers in the Wind Power industry. DBS' Field Service Engineer, Ronald Flores and Sales Engineer South Zone, Octavio Mellado from our Santiago Service Centre, visited our customer's wind farm to examine a possible fault in one of their gearboxes.
In order to determine the source of the fault, our specialist engineers performed an up-tower borescopic inspection. This required our technicians to have the Global Wind Organisation (GWO) standard training in Basic Survival Training (BST) and Advanced Rescue Training (ART), as the gearbox was located 85 metres high on the wind tower. The advanced camera technology involved in this particular inspection enabled our field service team to carry out a highly accurate examination to produce a technical report. This provided us with the opportunity to work in unison with our customer when making decisions about the future maintenance of their gearbox.
We look forward to continuing our work in the wind power industry and are proud to be a part of the driving force upholding sustainable solutions, as we embrace the limitless potential of renewable energy.
Wherever you are in the world, our dedicated field service engineers are there to support you 24/7, helping you achieve high machine availability rates and minimal downtime. Find your local David Brown Santasalo team here.
***
Nuestro equipo en David Brown Santasalo Chile recientemente completó una inspección de servicio de campo para uno de nuestros valiosos clientes en la industria de la Energía Eólica. El ingeniero de servicios de campo de DBS, Ronald Flores, y el ingeniero de ventas de la zona sur, Octavio Mellado, de nuestro centro de servicio de Santiago, visitaron el parque eólico de nuestro cliente para examinar un posible fallo en una de sus multiplicadoras.
Para determinar el origen de la avería, nuestros ingenieros especializados realizaron una inspección boroscópica en la parte superior de la torre. Para ello fue necesario que nuestros técnicos recibieran la formación estándar de la Global Wind Organisation (GWO) en entrenamiento de supervivencia básica (BST) y entrenamiento de rescate avanzado (ART), ya que el reductor estaba situada a 85 metros de altura en la torre eólica. La avanzada tecnología de las cámaras empleada en esta inspección en concreto permitió a nuestro equipo de servicio sobre el terreno llevar a cabo un examen muy preciso para elaborar un informe técnico. Esto nos brindó la oportunidad de trabajar al unísono con nuestro cliente a la hora de tomar decisiones sobre el futuro mantenimiento de su reductor.
Esperamos seguir trabajando en el sector de la energía eólica y estamos orgullosos de formar parte de la fuerza motriz que defiende soluciones sostenibles, al tiempo que abrazamos el potencial ilimitado de las energías renovables.
Esté donde esté en el mundo, nuestros ingenieros especializados en servicio de campo están a su disposición 24 horas al día, 7 días a la semana, para ayudarle a conseguir altos índices de disponibilidad de la máquina y reducir al mínimo los tiempos de inactividad. Encuentre a su equipo local de David Brown Santasalo en nuestro sitio web: https://dbsantasalo.com/contact