DBS Canada pull out all the stops to complete overhaul project
12.05.2021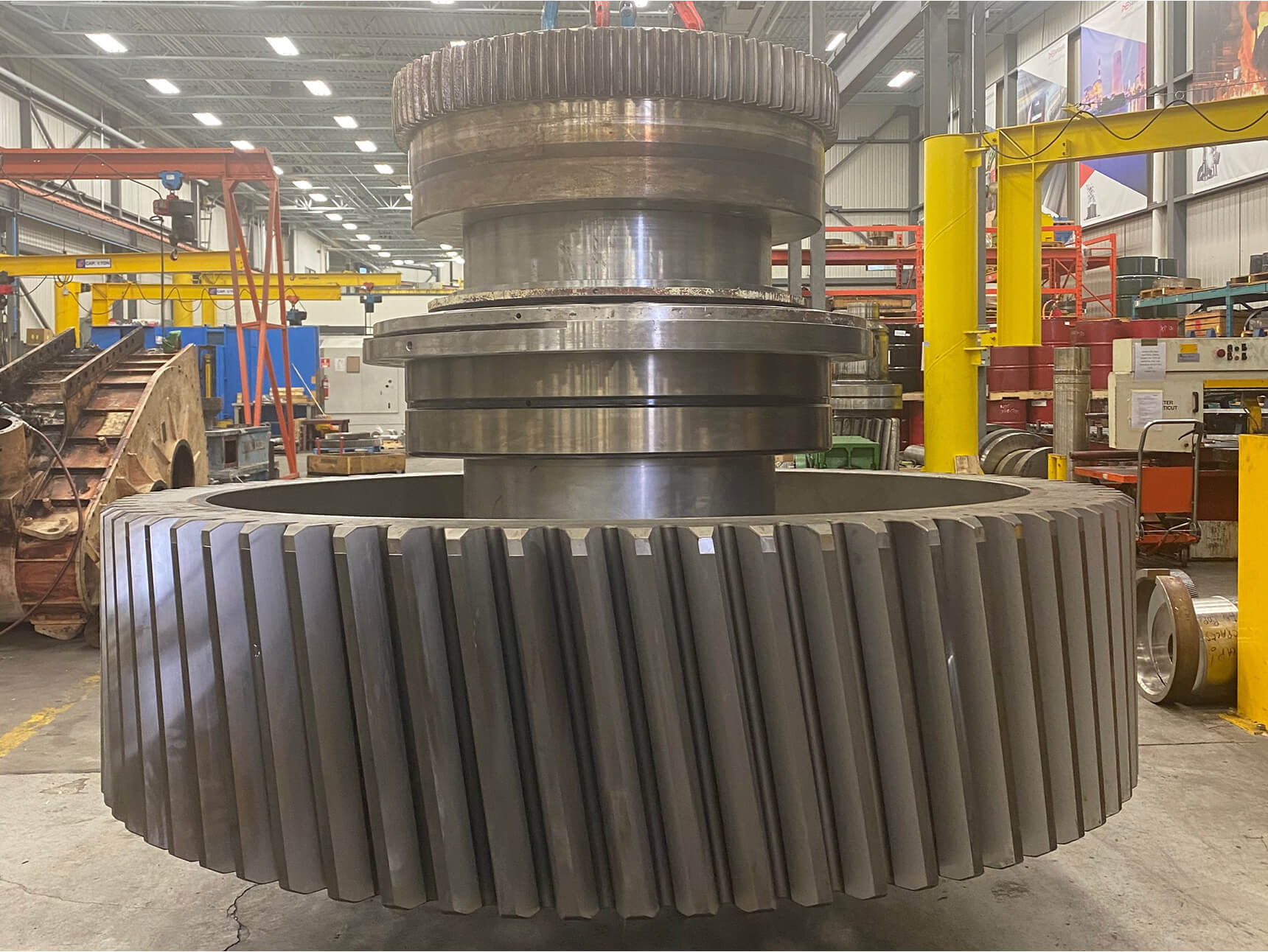 Our team at David Brown Santasalo Canada recently commenced work on a range of pinons, gears and components for a ball mill gearbox for our customer in the cement industry. This was an exciting project for our Montréal based team, as they had just six days to complete the project.

The team immediately got to work to remove all bearings, cartridges, and gears from all six pinions. Following this they solvent-pressure washed the components then salvaged and reinstalled two large gears on two newly manufactured large pinions. We then fully dismantled the intermediate pinions and reassembled all new bearings, ensuring they could provide a report including roller clearances and ensuring shrink fit on bore/diameter sizes.
During the overhaul process, our team of specialists also reground the output couplings internal teeth and machined precision angled locking plates as well as other on the spot demands. Finally, we ensured all modifications that were requested by the customer were carried out.
We are always ready to rise to the challenges a project of this nature produces. One of the main challenges faced was the size and weight of the parts; the low speed assembly alone weighed in at a huge 14,000 kilograms!
The team pulled out all the stops and turned this overhaul around in a short timeframe. The customer was delighted to receive the gears and pinions at their Cement facility in just six days, where it is now powering their crusher ball mill.

Notre équipe David Brown Santasalo Canada a tout récemment réalisé un projet d'urgence pour un client de l'industrie cimentière.
Mai 2021
L'équipe a débuté immédiatement en retirant les cartouches et les roulements de six pinions de grandes tailles. Ensuite un nettoyage au solvant haute pression de toutes les composantes, l'attention au détail était au rendez-vous, car nous devions réutiliser les engrenages pour ensuite les installer sur des nouveaux pinions basses vitesses fournies par le client. Le tout a été fait en réalisant un rapport de qualité incluant les jeux des rouleaux de roulements et la prise de mesure des interférences d'arbre et roulements/alésages.
Durant le projet, notre équipe de spécialistes a répondu aux différentes demandes non-prévus, tel que reprofiler les dents internes de la coupling de sortie et fabrication/machinage/modifications de plusieurs pièces précises. Finalement nous avons assuré que toutes les exigences soient respectées.
Nous sommes toujours prêts à répondre à de tel demandes peu importe la complexité. Un des challenge majeur de ce projet était la manipulation dû au poids et dimensions des composantes. L'assemblée de sortie pesait 14000 kilogrammes à elle seule!
L'équipe a réalisé le nécessaire en 6 jours seulement, et le client était très heureux de retrouver ses engrenages pour remettre en fonction leur broyeurs à boulets.