DBS Chile receives Occupational Health and Safety Award
02.08.2022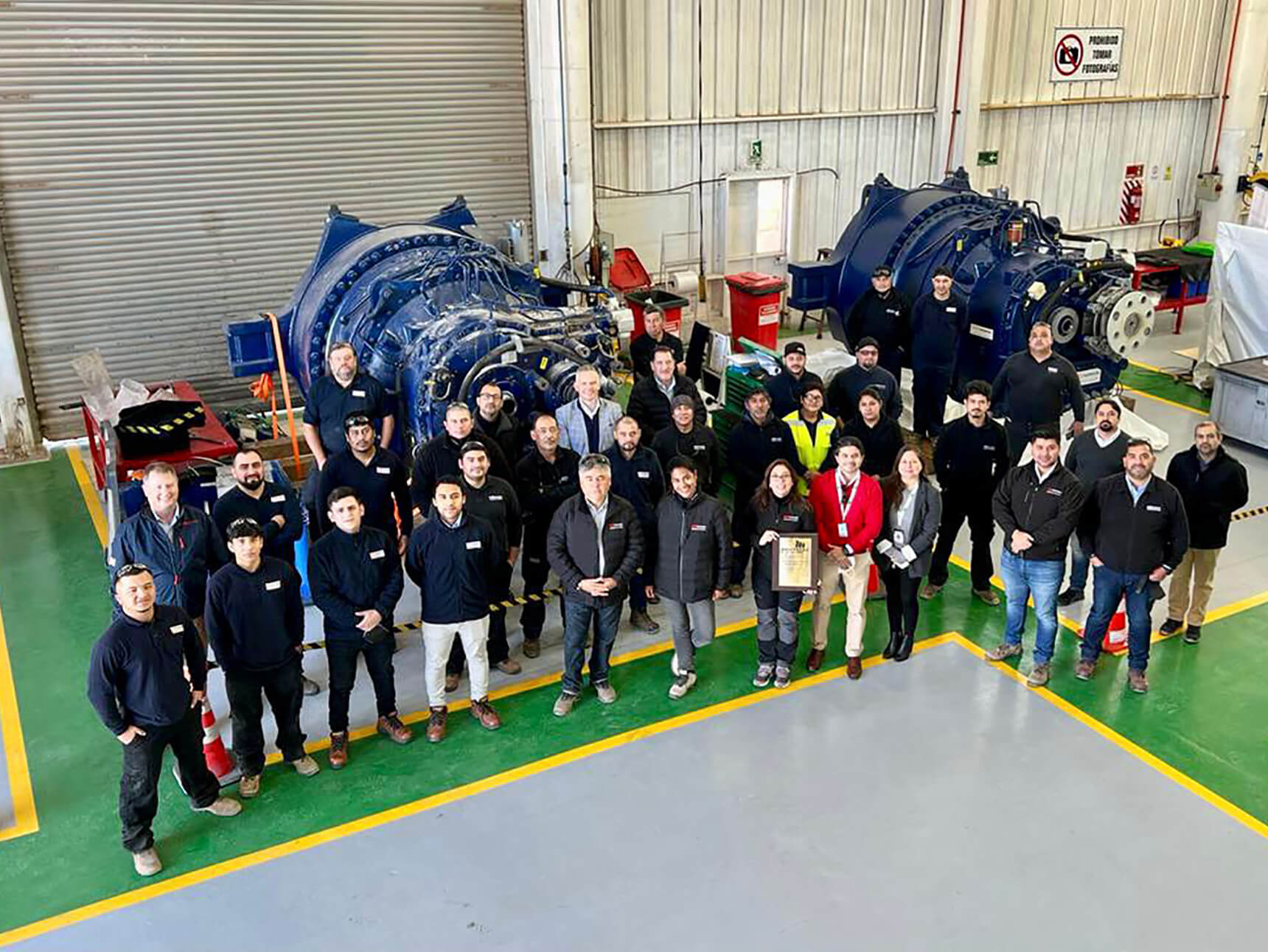 David Brown Santasalo Chile has recently received an Occupational Health and Safety Award from leading workplace health and safety law company, Mutual de Seguridad. The Health & Safety body recognised the team's exceptional safety performance and dedication to workplace compliance, following their achievement of four years without any occupational accidents or Lost Time Injuries.
Georgina Serey, EHS Safety Officer for DBS Chile said, "Thanks to the commitment, structure, discipline and leadership within our business, we have been able to implement a high level of safety standards that enabled us to reduce the accident rate to zero. It is an honor to receive this award from Mutual de Seguridad and to be recognised as one of the best companies in our industry in terms of safety performance."
We were thrilled to welcome representatives from Mutual de Seguridad, along with our Chief Executive Officer; David Armitt and members of the DBS Chile team to a special presentation event at the Antofagasta facility in Chile.
The health and safety of our people is our main priority and the EHS team, led by Georgina have implemented a culture of safety within the workforce, particularly the way in which occupational hazards are approached. This has been achieved by controlling critical risks and ensuring high safety standards are a pillar of our continuous development.
In addition, we have been extremely focused on the importance of training our people, along with correct supervision and recognition of hazards and risks. Operations at our service centres are dynamic, and we see our people using their training when deciding how to face new jobs, implementing new methodologies, and weighing up risks prior to undertaking tasks. Being well trained in safety procedures, being permanently alert and possessing the ability to recognise and control risks is an essential part of our team's skillset.
David Armitt, CEO commented, "We work in an industry which requires rigorous health and safety measures. It is great to see the hard work and safety performance of the team in Chile being recognised with this award. I was pleased to have the opportunity to attend the presentation with the Mutual de Seguridad at our Antofagasta location."
To find out more about the Mutual de Seguridad, please visit their website: https://www.Mutual.cl/.
If you would like to speak to a member of the team about your requirements, please contact chile@dbsantasalo.com.
DBS Chile recibe Premio a la Seguridad y Salud en el Trabajo
David Brown Santasalo Chile recibió recientemente un Premio a la Salud y Seguridad Ocupacional de Mutual de Seguridad, empresa líder en derecho de salud y seguridad en el trabajo. El organismo de Salud y Seguridad reconoció el desempeño excepcional en seguridad del equipo y la dedicación al cumplimiento en el lugar de trabajo, luego de haber logrado cuatro años sin accidentes laborales ni lesiones con tiempo perdido.
Georgina Serey, oficial de seguridad de EHS de DBS Chile, dijo: "Gracias al compromiso, la estructura, la disciplina y el liderazgo dentro de nuestro negocio, hemos podido implementar un alto nivel de estándares de seguridad que nos permitió reducir la tasa de accidentes a cero. Es un honor recibir este premio de Mutual de Seguridad y ser reconocida como una de las mejores empresas de nuestra industria en términos de desempeño en seguridad".
Estuvimos encantados de dar la bienvenida a los representantes de Mutual de Seguridad, junto con nuestro Director General; David Armitt y miembros del equipo de DBS Chile a un evento de presentación especial en las instalaciones de Antofagasta en Chile.
La salud y seguridad de nuestra gente es nuestra principal prioridad y el equipo de EHS, liderado por Georgina, ha implementado una cultura de seguridad dentro de la fuerza laboral y la forma en que se abordan los riesgos laborales. Esto se ha desarrollado controlando los riesgos críticos y asegurando altos estándares de seguridad es un pilar de nuestro desarrollo continuo.
Además, hemos estado extremadamente enfocados en la importancia de capacitar a nuestra gente, junto con una correcta supervisión y reconocimiento de peligros y riesgos. Las operaciones en nuestros centros de servicio son dinámicas y vemos a nuestra gente usar su capacitación para decidir cómo enfrentar nuevos trabajos, implementar nuevas metodologías y sopesar riesgos antes de emprender tareas. Estar bien capacitado en procedimientos de seguridad, estar permanentemente alerta y poseer la capacidad de reconocer y controlar los riesgos es una parte esencial del conjunto de habilidades de nuestro equipo.
David Armitt, CEO, comentó: "Trabajamos en una industria que requiere medidas rigurosas de salud y seguridad. Es fantástico ver que el trabajo arduo y el desempeño en seguridad del equipo en Chile sean reconocidos con este premio. Tuve el placer de tener la oportunidad de asistir a la presentación con la Mutual de Seguridad en nuestra sede de Antofagasta".
Para obtener más información sobre la Mutual de Seguridad, visite su sitio web: https://www.Mutual.cl/.
Si desea hablar con un miembro del equipo sobre sus requisitos, comuníquese con chile@dbsantasalo.com.