David Brown Santasalo has partnered with E3 Recruitment to secure talent for a number of Engineering Positions in Huddersfield
12.09.2023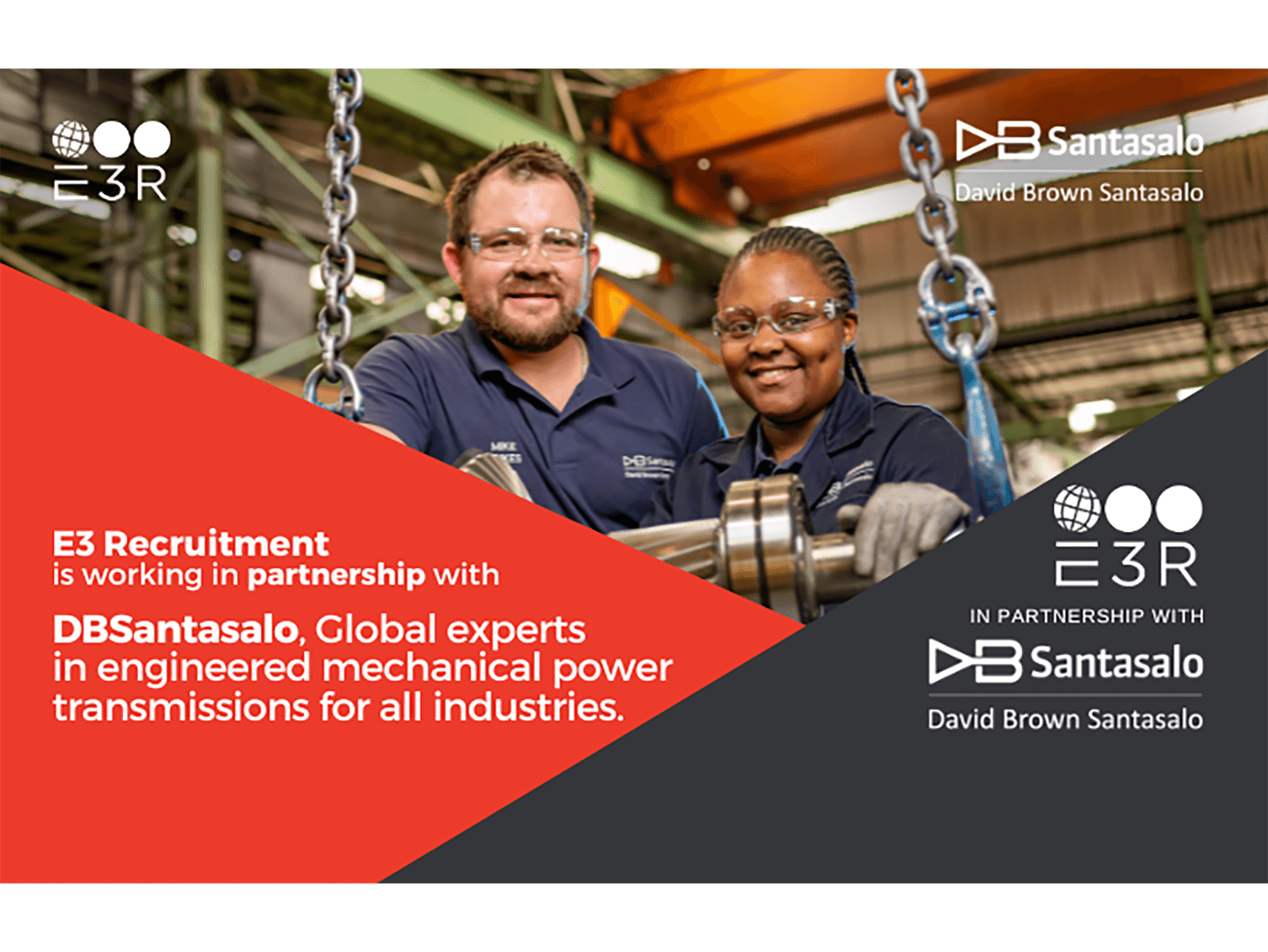 David Brown Santasalo (DBSantasalo) is pleased to announce our partnership with E3 Recruitment, a global leader with nearly three centuries of gearbox manufacturing expertise. DBSantasalo is actively seeking skilled professionals to join their Huddersfield operations, adding to their existing team of over 350 employees across various functions in the UK.
With a presence spanning six continents and a team of over 1,200 experts, DBSantasalo is renowned for our reliable performance and rich brand heritage in industrial gear design and engineering. Our commitment to delivering proven gear systems for critical industrial processes worldwide is demonstrated by their extensive teams of design, application, and service engineers positioned strategically around the globe. Industries including Pulp & Paper, Marine, Defence, Power, Mining, Industrial, and Consumer End Markets benefit from our technological expertise.
DBSantasalo invests in an environment where skills flourish, offering competitive salaries, comprehensive benefits, and a dynamic work atmosphere. We provide various pathways to professional development, from apprenticeships and graduate programs to internships and regular career vacancies, welcoming candidates to be part of their thriving community.
With state-of-the-art facilities and a rich gear engineering heritage, DBSantasalo boasts ISO 9001 and ISO 14001-accredited manufacturing facilities, supported by a team of highly qualified service experts dedicated to global support.
The engineering roles available in this initiative cover a broad spectrum of expertise, from Quality Engineers and Manufacturing Engineers to skilled craftsmen in assembly, machining, and design. These positions are integral to our marine, engineering, and heavy manufacturing departments.
This recruitment drive reflects DBSantasalo's dedication to nurturing talent, driving innovation, and fostering a community of forward-thinkers. A career with us is an opportunity to be part of a legacy where ingenuity meets expertise.
DBSantasalo is collaborating with E3 Recruitment to recruit for the following roles at their Huddersfield Site: Quality Engineer, Lead Quality Engineer, Manufacturing engineer, Assembly Team Member, General Labourer, CNC Machinists & Manual Millers, Programme Manager and Schedulers, Project Controller, Senior Design Engineers, and Buyers. These roles will play a crucial role in supporting significant programs across DBSantasalo's Engineering, Marine, and Large Gear Cell departments.
To apply for these roles, register your CV with E3 Recruitment at dbsantasalo@e3recruitment.com or call 01484 465 269 to speak with their dedicated recruitment team. You can also find these roles on our careers page along with the latest global opportunities. Please note, all applications must be made via E3 Recruitment.

"Following a strong 10-year relationship with DBSantasalo, we're pleased to partner with them in their search for exceptional talent for an exciting project. Our network of qualified candidates combined with DBSantasalo's legacy of innovation presents a unique opportunity for professionals in precision engineering."

"Joining David Brown Santasalo means becoming part of a dynamic community where innovation thrives. Fresh opportunities await within our marine, engineering, and heavy manufacturing departments at our Huddersfield site."