David Brown Santasalo South Africa complete fabrication shop development
01.02.2022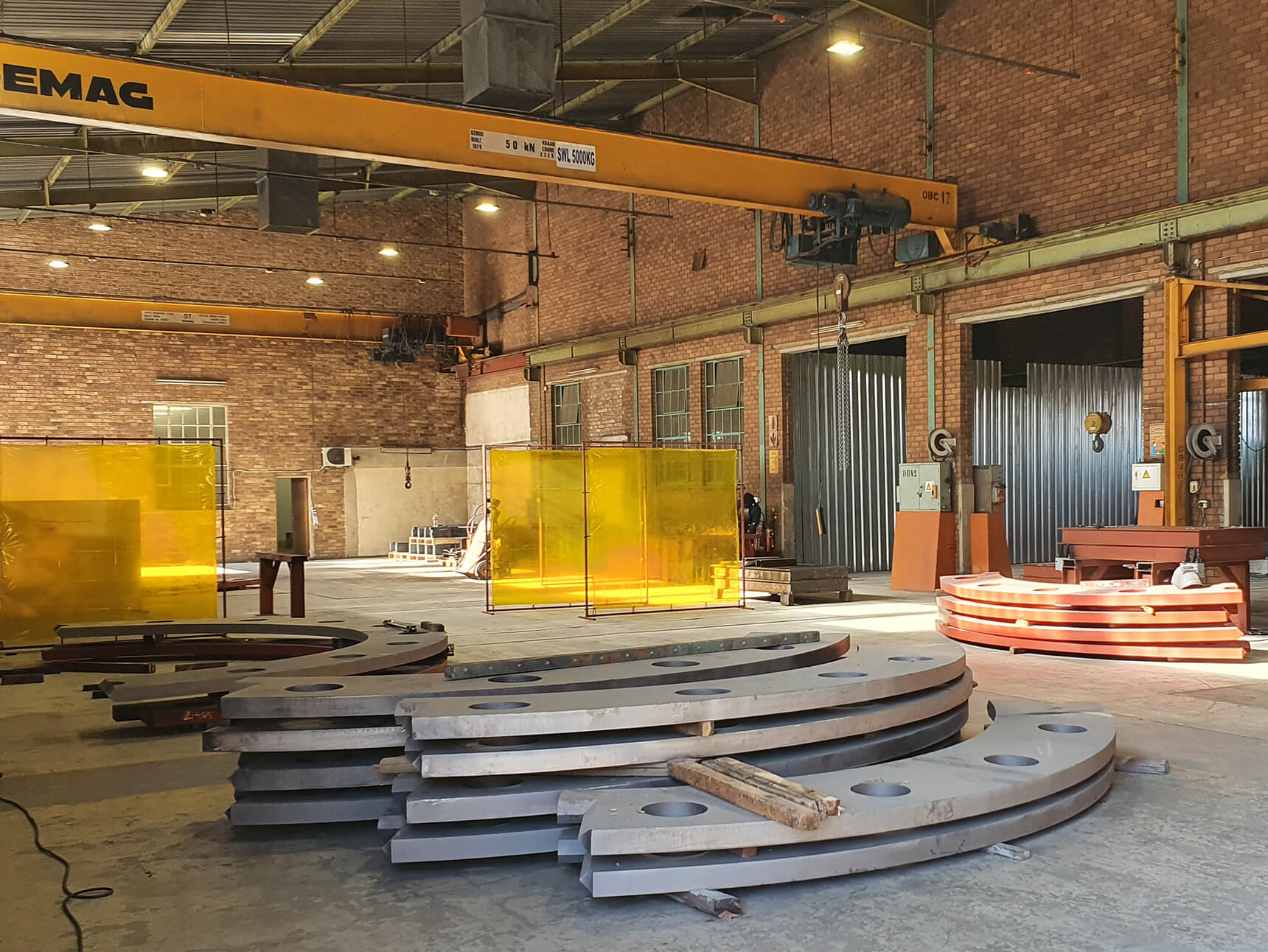 David Brown Santasalo South Africa has completed the development of a brand-new fabrication workshop at our Benoni Manufacturing & Service Facility. The works, which commenced in early 2021 will enhance our in-house welding process to improve lead times for our customers.
The fabrication shop, integrated into the existing facilities, is an impressive 1000 square metres and is fully equipped with industrial MIG welding machines, semi-automated mechanisation, stress-relieving equipment and a shot blasting facility. The shop will also be further supported by our in-house IIW certified welding engineers, with world class quality assurance NDT procedures.
Girth gear fabrication involves dissimilar metal welding of highly alloyed steel under heavy constraints, which required the development of specialised welding procedures, as well as a shot-blast booth large enough for girth gear segments. All of which have been catered for in the new development.
Francois Van Tonder, Managing Director at DBS South Africa said, "The benefits of the new fabrication shop will create an even more enhanced experience for our customers by offering high quality products at reduced lead times. I am excited to see the fabrication shop complete and ready to service our customers."
Since our Benoni site already has in-house welding expertise, we wanted to complement this by developing our internal girth gear capabilities, rather than reaching out to a third-party supplier. Consequently, we now have full control of the fabrication functions, while protecting our IP and ensuring we remain at the forefront of the industry.
Johan Potgieter, Engineering Manager commented, "Strengthening our in-house Girth Gear fabrication capabilities was the main reason for developing our new fabrication shop. Our girth gears are mostly built for mining and power generation, however we can (and already have) also met our customer's requirements of more general fabrications such as housings, baseplates and wheel centres."
Download our Girth Gears infographic to find out more about our in-house Girth Gear capabilities, here.
To find out more about how the team in South Africa can assist you, please contact salessa@dbsantasalo.com. You find find the contact details for your local David Brown Santasalo team, here.