David Brown Santasalo Türkiye attend Platinum Jubilee Garden Party
21.06.2022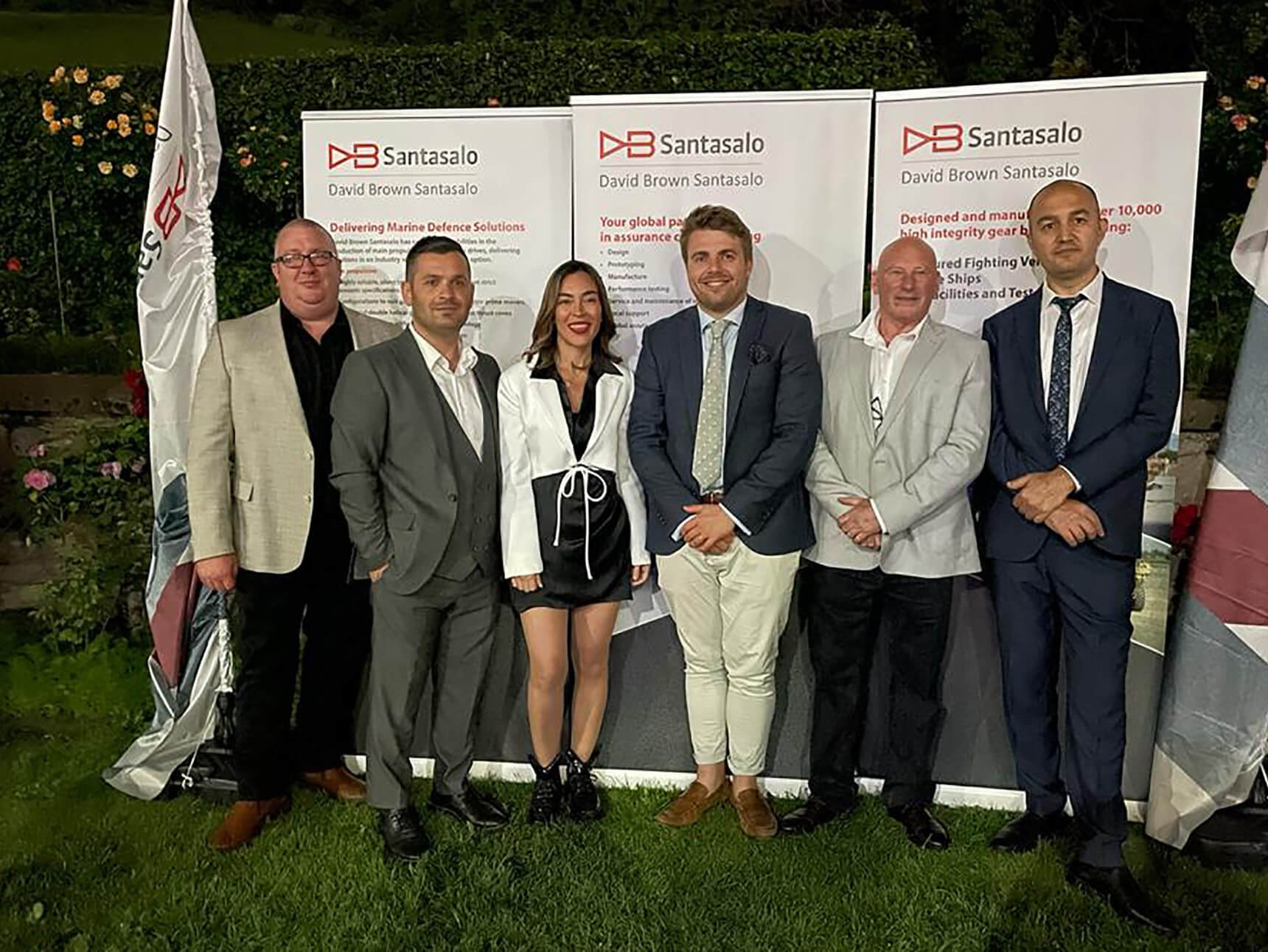 The team at David Brown Santasalo in Türkiye were delighted to attend the Platinum Jubilee garden party held at the Gardens of the Residence at The British Embassy in Ankara. The event, which was held on 9th June, was in honour of Her Majesty Queen Elizabeth II to mark her 70th year on the throne. It was also an opportunity to celebrate Her Majesty's official 96th birthday.
The Queen's Birthday Party is the most important and prestigious event in the British Embassy's calendar. As in past years, the garden party highlighted the numerous and varied connections between Türkiye and Britain. In particular, it is a great moment to celebrate British – Turkish business relationships as well as a chance for the invitees to meet new people and make new connections.
Sebnem Dil, Office Manager for David Brown Santasalo Türkiye told us, "The event began with the UK and Turkish national anthems. Sir Dominick Chilcott, British Ambassador to Türkiye made an opening speech highlighting the recent successes of trade between the two countries and their continued commitment to future trade. Mr Faruk Kaymakci, Turkish Deputy Foreign Minister and Director for EU Affairs also praised the strength of relationship and trade between both countries."
We were honoured to attend this prestigious event as one of the Golden Sponsors and were proud to display our company logo in all corners of the event space. It was a fantastic to share the important work that David Brown Santasalo do in the country and demonstrate the stability we have in this territory with our partners in the Defence sector.
David Brown Santasalo Türkiye is part of a global operation, with locations spanning six continents. Our global organisation has a long-standing heritage and can trace our roots back to 1860s when David Brown in the UK commenced cast gear manufacturing. In 2016, David Brown joined forces with Santasalo to become one of the world's leading mechanical power transmission brands; David Brown Santasalo.
To find out more about how we can assist you, please contact the team directly at turkey@dbsantasalo.com, or to find your local DBS team, please click here.
•
David Brown Santasalo Türkiye Platinum Jubilee Bahçe Partisine iştirak etti
Türkiye David Brown Santasalo ekibi , Majesteleri Kraliçe II. Elizabeth'in tahttaki 70. Yılı onuruna Ankara
İngiliz Büyükelçiliği Rezidans Bahçeleri'nde düzenlenen Platinum Jubilee Bahçe partisine katılmaktan büyük mutluluk duydu. 9 Haziran'da düzenlenen etkinlik, aynı zamanda Majestelerinin 96. Doğum gününü kutlamak için de bir fırsattı.
Kraliçenin Doğum Günü Partisi, İngiliz Büyükelçiliği takvimindeki en önemli ve prestijli etkinliktir. Bahçe partisi, geçtiğimiz yıllarda olduğu gibi, Türkiye ve İngiltere arasındaki çok sayıda ve çeşitli bağlantıların altını çizdi. Özellikle iş alanındaki İngiliz – Türk ilişkilerini kutlamak ve davetlilere yeni insanlarla tanışma ve yeni bağlantılar kurma şansı verme noktasında harika bir zaman dilimi idi.
David Brown Santasalo Türkiye Ofis Müdürü Şebnem Dil, Bize "Etkinlik İngiltere ve Türk milli marşlarının okunmasıyla başladı. İngiltere'nin Türkiye Büyükelçisi Sir Dominick Chilcott, iki ülke arasındaki ticarette son zamanlarda elde edilen başarıları ve bu başarıların gelecekteki devamını vurgulayan bir açılış konuşması yaptı. Türkiye Dışişleri Bakan Yardımcısı ve Avrupa Birliği Başkanı Sayın Faruk Kaymakçı da iki ülke arasındaki ilişkilerin ve ticaretin gücüne övgüde bulundu."dedi.
Bu prestijli etkinliğe Altın Sponsorlardan biri olarak katılmaktan onur duyduk, ayrıca etkinlik alanının her köşesinde şirket logomuzu sergilemekten de gurur duyduk. David Brown Santasalo'nun Türkiye'de yaptığı önemli çalışmaları paylaşmak ve savunma sektöründeki ortaklarımızla bu bölgede sahip olduğumuz istikrarı paylaşmak harikaydı.
David Brown Santasalo Türkiye, lokasyonları altı kıtaya yayılan küresel bir operasyonun parçasıdır. Bu küresel organizasyonun köklü mirası, David Brown'un İngiltere'de döküm dişli üretimine başladığı 1860'lara kadar uzanır. 2016 yılında dünyanın önde gelen mekanik güç aktarım markalarından biri olmak için David Brown ve Santasalo güçlerini birleştirerek, David Brown Santasalo olmuştur.
Daha fazla bilgi ve size en yakın DBS çalışanına ulaşmak için bizimle doğrudan iletişim kurabilirsiniz. Email adresimiz: turkey@dbsantasalo.com.