David Brown Santasalo UK apprentices receive apprenticeship awards
24.08.2022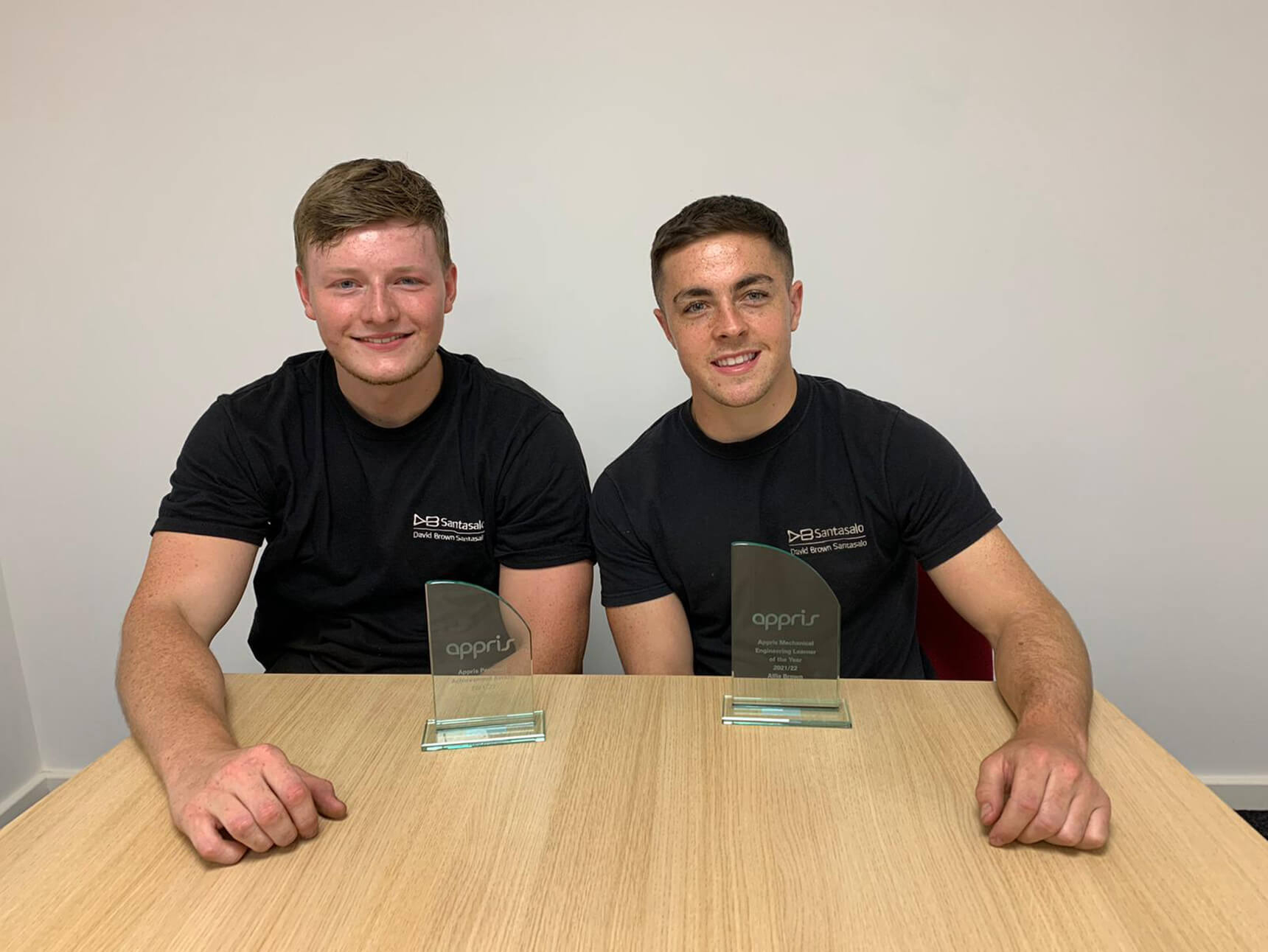 David Brown Santasalo is proud to share that two of our UK apprentices have received awards from apprenticeship scheme partner, Appris College. The Bradford-based college presented the awards at an awards ceremony as part of their annual award programme.
Apprentice, Alfie Brown received the Appris award for Mechanical Engineering Learner 2021/22, alongside Apprentice, Toby Wilkinson who received the Appris award for Personal Achievements within the Mechanical Engineering category. The prestigious awards see companies from across the industry in the selection process, who were all in attendance at the ceremony.
Darren Horn, Cell Leader at David Brown Santasalo and Alfie's line manager said, "Alfie has just begun the fourth year of his Apprenticeship. He has stood out as a great member of the team right from the beginning of his time with us. He is a hard worker with an eagerness to learn and is friendly and helpful at all times. He regularly volunteers to attend Apprenticeship Open Days to encourage more young people to consider a career in engineering at DBS."
Darren continued, "Toby has been with the business for a year now and has always shown a great attitude and willingness to get 'stuck in' to whatever the team are working on. He's a real asset to the team."
Alfie and Toby are carrying out their Apprenticeships in the Service and Repair department of our Huddersfield-based Manufacturing and Service facility in the UK. They have both shown a real passion for the work and a hunger to learn as much as they can about the business through their respective apprenticeship programmes.
Nathan Turner, General Manager for David Brown Santasalo UK said, "We are very proud to see two of our apprentices' receiving awards from our partner Appris. Alfie and Toby are at different stages in their apprenticeship journeys, with Alfie having just begun his fourth year. It is particularly great to see Toby achieve this award whilst in his first year of the apprenticeship scheme."
"This is a great achievement for both Alfie and Toby and recognition for the hard work they have put in throughout their time at Appris and DBS. This is also acknowledgement for the great apprenticeship programme that DBS has for its current 15 strong apprentices and for the future apprentices, who are key to the company delivering its strong order book and achieving future growth." Nathan concluded.
If you are interested in joining our apprenticeship programme, please visit our career page for details.