First Aid Award for employees at David Brown Santasalo Finland
15.10.2020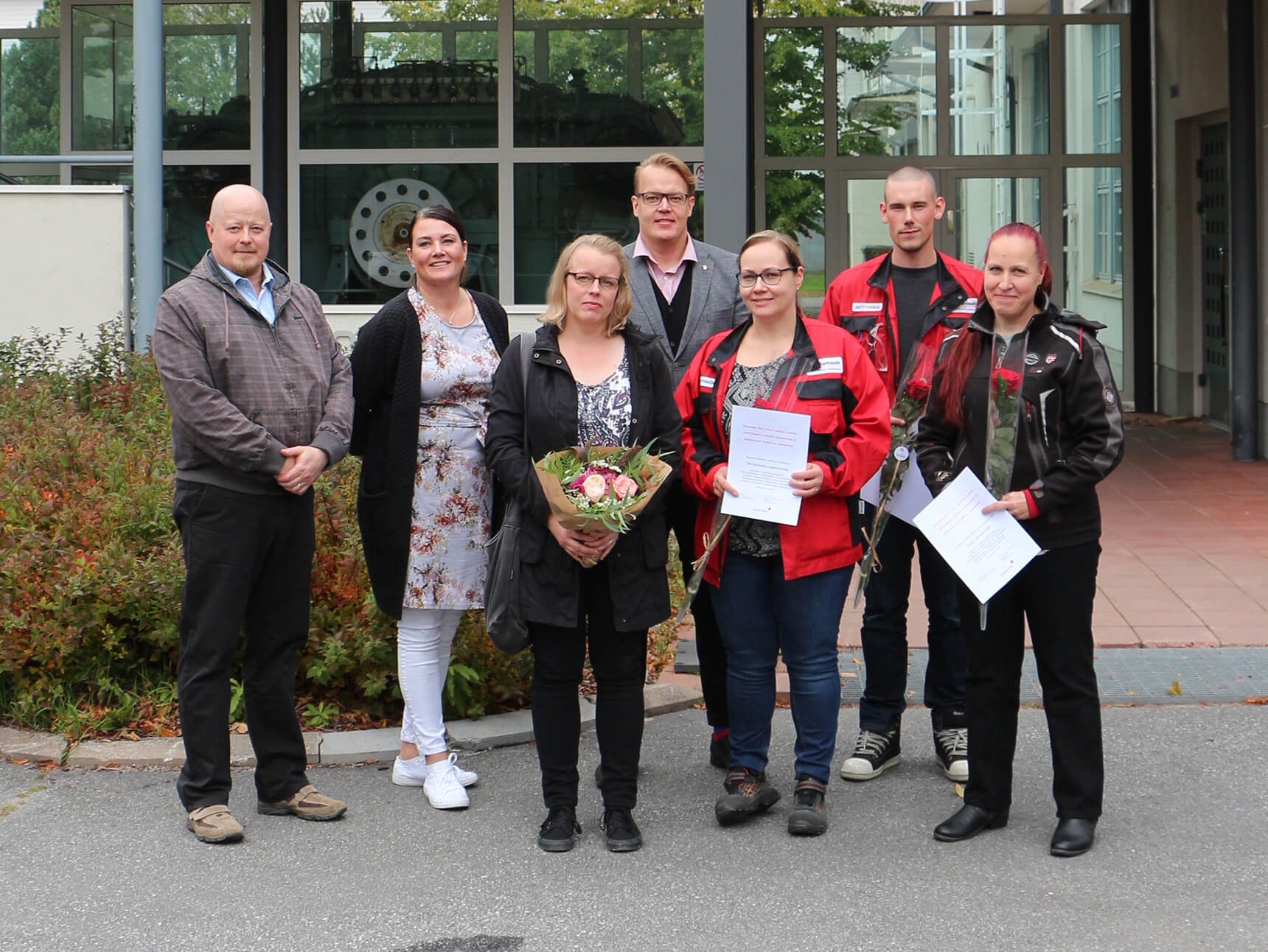 Two employees based at the Jyväskylä manufacturing facility of David Brown Santasalo in Finland have recently been presented with the Finnish Red Cross' SPR Bronze Award for exemplary first aid. In addition, David Brown Santasalo was recognised for providing first aid training to their employees and for having defibrillator equipment readily available onsite.
The award was presented to Antti Takala, Assembly Manager and Tanja Lähteenmäki, Logistics Worker, who were instrumental in saving a colleague's life on site at the Jyväskylä facility. Almost a year ago, the colleague was taken ill and fainted whilst in conversation with Antti. Unfortunately, the colleague was suffering a heart attack and Antti quickly identified that he was unconscious. Due to his First Aider training, Antti was immediately able to begin the CPR process whilst the emergency services were called.
Antti was joined by Tanja soon after and the pair continued with the CPR process together. Meanwhile a team of ten colleagues set about directing the emergency services to the scene and sought the onsite defibrillator to assist in the resuscitation. This extraordinary display of teamwork played a huge part in the positive outcome of this situation.
Kari Liukkoila, Occupational Health and Safety Manager at David Brown Santasalo Finland said, "We are dedicated to ensuring the safety of our people whilst on site. An important aspect of this is ensuring we provide equipment such as defibrillators on site. In addition, over 40% of our personnel have received EA1 First Aid Training, which is invaluable in these events".
Jooel Niittynen, SPR's Program Director said "The recovery situation in DB Santasalo's assembly hall was an excellent example of being well prepared in the workplace for such a situation arising. Hopefully this will serve as an example for other work communities as well".
This was an exemplary display of teamwork from all involved at our Jyväskylä facility and highlights how important first aid training is within the workplace. Adequate training ensures potential scenarios have been practiced and everyone is well versed in what do and can act quickly in an emergency. On behalf of the David Brown Santasalo group we extend our thanks to Antti, Tanja and all DBS Finland colleagues for your quick response in this unexpected situation.