International Women's Day - Women in Engineering Interview
07.03.2022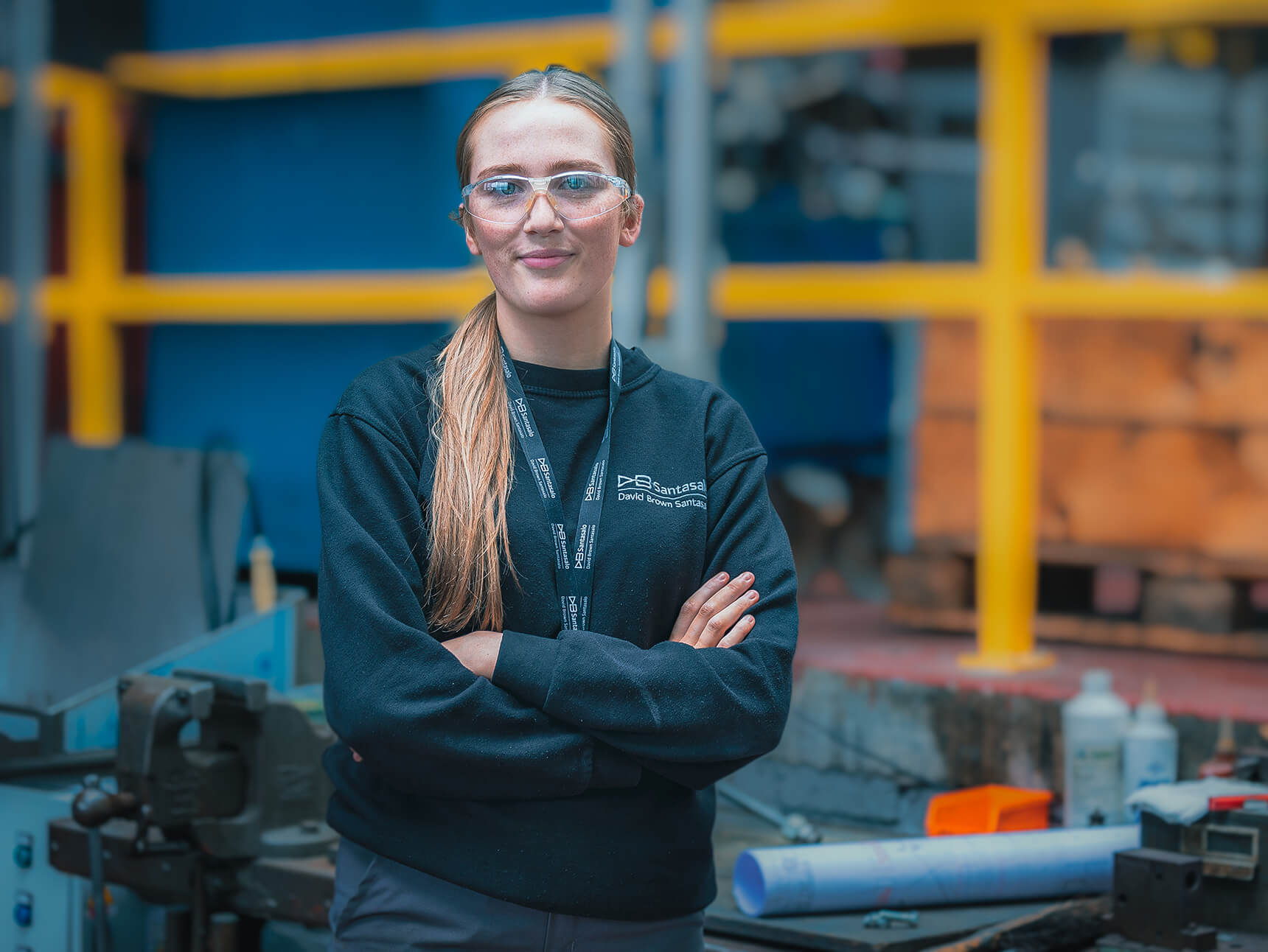 We are proud to support women in engineering and on International Women's Day 2022, we would like to take a moment to celebrate the women who are a part of our business and the wider industry. We actively support women in finding their career path within David Brown Santasalo through Apprenticeships, Graduate Schemes and throughout all levels within our global business. We are extremely lucky to have a strong female presence within our organisation and recognise International Women's Day is a time to celebrate, reflect and encourage women of all ages and cultures.
We joined together via a TEAMs virtual call with Henriikka Huuskonen, Manufacturing Operations, Project Manager – Finland, Mumtaaz Noor Mohamed, Junior Mechanical Engineer – South Africa and Ruby Davenport, NDT Apprentice – UK. Each colleague is at different points of their career and we took the opportunity to find out more about their roles at David Brown Santasalo (DBS) and their experiences working within the industry.
David Brown Santasalo (DBS): How long have you worked for DBS and what is your current role?
Henriikka Huuskonen (HH): I have worked for the business for 17 years now. I have had the opportunity to work in several departments and currently I am the Project Manager for manufacturing ramp up for our new state-of-the-art facility in Finland.
Mumtaaz Noor Mohamed (MM): I joined the business in January 2019 and have been with the business for over 3 years now. I am currently working as a Junior Mechanical Engineer in our South Africa manufacturing facility.
Ruby Davenport (RD): I joined David Brown Santasalo in the UK on the apprenticeship programme 18 months ago and am currently an NDT (Non-Destructive Testing) Apprentice.
DBS: What was your first role with DBS?
HH: I actually joined the business back in 2003 as an Engineering student training in our Cambridge Service Centre in Canada. At that time, I took on the role of Logistics Trainee, which involved chasing quality and development projects.
MM: I joined DBS as an Engineering Intern, I really enjoyed the internship and had the opportunity to take on a role that taught me more about creating technical drawings and costing gear system projects.
DBS: What attracted you to working in this industry?
HH: Since my engineering studies in logistics, I have been interested in production economy and wanted to see and understand it in practice. Before that I didn't have a lot of knowledge about the industry.
MM: I was drawn to being able to work on the technical aspect of the drawings and being able to see the many factures of the engineering process and ultimately seeing it come to life. When applying for courses at university and seeing what was out there, engineering sounded like the career for me!
RD: My parents have both worked in engineering and this has been a huge influence for me. I also really excelled in science and maths subjects in school and this led me towards STEM industries. My dad, who has worked for DBS for over 30 years, took me to a centenary event at the Huddersfield UK facility when I was 10 years old. I remember seeing the gear systems then and was fascinated.
DBS: What do you love the most about working in this industry?
HH: I love working with so many smart and interesting people. It is a pleasure to learn so much from working with other engineers.
MM: I agree with Henriikka, it has been fantastic to have the opportunity to learn from the senior engineers here. I love working as a team and really feel part of something that I am passionate about.
RD: As Henriikka and Mumtaaz have said, I have really enjoy working with the Senior NDT Engineer here in Huddersfield. I shadow him every other week and have gained invaluable skills, hint and tips.
DBS: What is your fondest memory of working at DBS?
HH: The moments when I have changed roles over the 17 years I've worked here, each time I work with a new team the experience is invaluable and it's also really rewarding when your team tells you they hope you continue working with them. That is when you know you have done things right.
MM: For me it has been the opportunity to go to a customer's facility. I had the opportunity to visit a mine and inspect a gearbox, it was mind blowing to see how much technology is underground!
DBS: What has been the most memorable project that you've worked on here?
HH: Working on the new factory project in Finland. It is the biggest investment in the group to date and has been a great experience for all the team involved.
MM: I had the opportunity to work on a vertical unit with three cases. Creating the drawings were really complex and when it came to life and was installed into the application, it worked perfectly - it was an amazing feeling.
DBS: If you participated in our Apprentice or Graduate Schemes, what do/did you love the most about it?
MM: Although I didn't join on a specific scheme, during my time as an intern I found it so rewarding to have the opportunity to work on drawings or reverse engineering projects and learn how it actually works.
RD: I would have to say that with the guidance of my mentors, I have been able to curate the role I have wanted to do. Working with the Senior NDT is amazing, it's been such a valuable experience and I really feel so much more advanced in my academic work as a result.
DBS: What would you say to other women who are interested in starting a career in engineering?
HH: Always be yourself, trust your judgement and be ready to learn new things.
MM: I would say you need to be self-confident, believe in yourself and that you are as competent as any male counterpart. If you are passionate about a career in engineering, then you should explore it.
RD: Go for it! It can feel intimidating to choose a career in an industry where you are a minority, but I love working in engineering and absolutely love my job. I wouldn't let anything put me off!
Thank you so much for your time today.
-
Found out more about a career with David Brown Santasalo, and discover all the latest opportunities here.